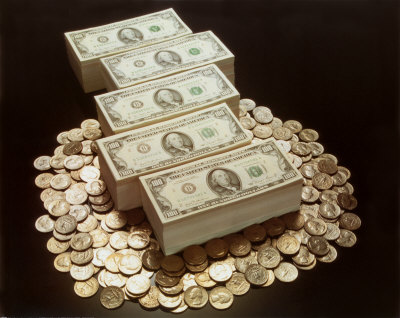 Big Or Little
Jack Circle, then an assistant chaplain at one of our hospitals, was approached late one day by a businessman, a member of the church, who said he was in trouble, Jack said, "Let's go to my office and pray about it."
The businessman explained that he desperately needed money to meet his payroll. He would have the money in a week, but the payroll was coming up the next day. "How much do you need?" Jack asked. And he said, "I need $24,700." That was a lot of money to pray about. Jack gave him the telephone number of someone who might be able to help with a much smaller amount. But that didn't solve the problem.
Jack opened his Bible and read, "My God shall supply all your need." Philippians 4:19.
The two men knelt together and in faith claimed that promise. Then Jack had to leave for prayer meeting, and the business man went home. He tried the number Jack had given him but received no answer. It seemed there was no way out of his dilemma. Then the telephone rang.
The call was from a friend in the northern part of the state. He said, "Thirty minutes ago I was impressed that you needed money." And the astonished man said, "Thirty minutes ago Jack Circle and I were kneeling in his office, claiming the promise, 'My God shall supply all your need.'"
The friend said he had sold some equipment for $21,700 and had $3,000 in his safe. He would send the full amount immediately. Needless to say, the parties on both ends of the call were deeply impressed. The friend who called was a doctor. He was also an atheist! And said later, "Any God who uses me to answer a prayer, I want to know."
Would it be wrong to suggest that God and His angels must have fun working out our problems in such refreshingly unexpected ways?
M. L. Lloyd