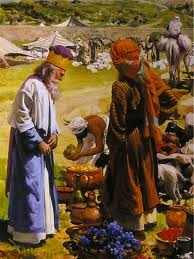 God Asks For One-tenth
Of The Increase He Gives
The tithing system reaches back beyond the days of Moses. Men were required to offer to God gifts for religious purposes before the definite system was given to Moses, even as far back as the days of Adam. In complying with God's requirements, they were to manifest in offerings their appreciation of His mercies and blessings to them. This was continued through successive generations, and was carried out by Abraham, who gave tithes to Melchizedek, the priest of the most high God. The same principle existed in the days of Job. Jacob, when at Bethel, an exile and penniless wanderer, lay down at night, solitary and alone, with a rock for his pillow, and there promised the Lord: "Of all that Thou shalt give me I will surely give the tenth unto Thee." God does not compel men to give. All that they give must be voluntary. He will not have His treasury replenished with unwilling offerings.
As to the amount required, God has specified one tenth of the increase. This is left to the conscience and benevolence of men, whose judgment in this tithing system should have free play. And while it is left free to the conscience, a plan has been laid out definite enough for all. No compulsion is required.
God called for men in the Mosaic dispensation to give the tenth of all their increase. He committed to their trust the things of this life, talents to be improved and returned to Him. He has required a tenth, and this He claims as the very least that man should return to Him. He says: I give you nine tenths, while I require one tenth; that is Mine. When men withhold the one tenth, they rob God. Sin offerings, peace offerings, and thank offerings were also required in addition to the tenth of the increase.
All that is withheld of that which God claims, the tenth of the increase, is recorded in the books of heaven against the withholders, as robbery. Such defraud their Creator; and when this sin of neglect is brought before them, it is not enough for them to change their course and begin to work from that time upon the right principle. This will not correct the figures made in the heavenly record for embezzling the property committed to them in trust to be returned to the Lender. Repentance for unfaithful dealing with God, and for base ingratitude, is required.
Whenever God's people, in any period of the world, have cheerfully and willingly carried out His plan in systematic benevolence and in gifts and offerings, they have realized the standing promise that prosperity should attend all their labors just in proportion as they obeyed His requirements. When they acknowledged the claims of God and complied with His requirements, honoring Him with their substance, their barns were filled with plenty. But when they robbed God in tithes and in offerings they were made to realize that they were not only robbing Him but themselves, for He limited His blessings to them just in proportion as they limited their offerings to Him.
The man who has been unfortunate, and finds himself in debt, should not take the Lord's portion to cancel his debts to his fellow men. He should consider that in these transactions he is being tested, and that in reserving the Lord's portion for his own use he is robbing the Giver. He is debtor to God for all that he has, but he becomes a double debtor when he uses the Lord's reserved fund in paying debts to human beings. "Unfaithfulness to God" is written against his name in the books of heaven. He has an account to settle with God for appropriating the Lord's means for his own convenience. And the want of principle shown in his misappropriation of God's means will be revealed in his management of other matters. It will be seen in all matters connected with his own business. The man who will rob God is cultivating traits of character that will cut him off from admittance into the family of God above.
CCh 276-277