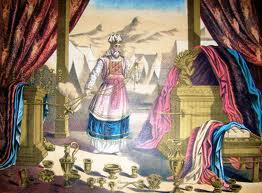 Evaluation
God Evaluates Gifts By The Love
Which Prompts The Sacrifice
In the balances of the sanctuary the gifts of the poor, made from love to Christ, are not estimated according to the amount given, but according to the love which prompts the sacrifice. The promises of Jesus will as surely be realized by the liberal poor man, who has but little to offer, but who gives that little freely, as by the wealthy man who gives of his abundance. The poor man makes a sacrifice of his little, which he really feels. He really denies himself of some things that he needs for his own comfort, while the wealthy man gives of his abundance, and feels no want, denies himself nothing that he really needs. Therefore there is a sacredness in the poor man's offering that is not found in the rich man's gift, for the rich give of their abundance. God's providence has arranged the entire plan of systematic benevolence for the benefit of man. His providence never stands still. If God's servants follow His opening providence, all will be active workers.
The offerings of little children may be acceptable and pleasing to God. In accordance with the spirit that prompts the gifts will be the value of the offering. The poor, by following the rule of the apostle and laying by a small sum every week, help to swell the treasury, and their gifts are wholly acceptable to God; for they make just as great, and even greater, sacrifices than their more wealthy brethren. The plan of systematic benevolence will prove a safeguard to every family against temptations to spend means for needless things, and especially will it prove a blessing to the rich by guarding them from indulging in extravagances.
The reward of whole-souled liberality is the leading of mind and heart to a closer fellowship with the Spirit.
Paul lays down a rule for giving to God's cause, and tells us what the result will be both in regard to ourselves and to God. "Every man according as he purposeth in his heart, so let him give; not grudgingly, or of necessity: for God loveth a cheerful giver." "This I say, He which soweth sparingly shall reap also sparingly; and he which soweth bountifully shall reap also bountifully." "God is able to make all grace abound toward you; that ye, always having all sufficiency in all things, may abound to every good work: . . . Now he that ministereth seed to the sower both minister bread for your food, and multiply your seed sown, and increase the fruits of your righteousness; being enriched in everything to all bountifulness, which causeth through us thanksgiving to God." 2 Corinthians 9:6-11.
CCh 277