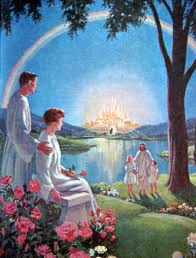 A Serious Matter
It is a serious thing to embezzle the Lord's goods, to practice robbery toward God; for in so doing the perceptions become perverted and the heart hardened. How barren is the religious experience, how clouded is the understanding, of one who loves not God with pure, unselfish love, and who fails, therefore, to love his neighbor as himself. . . .
The last great day will reveal to them and to the whole universe what good might have been done, had they not followed their selfish inclinations, and thus robbed God in tithes and offerings. They might have placed their treasure in the bank of heaven, and preserved it in bags that wax not old; but instead of doing this, they expended it upon themselves and their children, and seemed to feel afraid that the Lord would get any of their money or their influence, and thus they met with eternal loss. Let them contemplate the consequence of withholding from God. The slothful servant, who puts not out his Lord's money to usury, loses an eternal inheritance in the kingdom of glory.
To defraud God is the greatest crime of which man can be guilty; and yet this sin is deep and widespread.
Every Dollar Charged
Will you withhold from God His own? Will you divert from the treasury the portion of means which the Lord claims as His? If so, you are robbing God, and every dollar is charged against you in the books of heaven.
Why the Blessing is Withheld from Some
Hasten, my brethren and sisters, to bring to God a faithful tithe, and to bring Him also a willing thank offering. There are many who will not be blessed till they make restitution of the tithe which they have withheld. God is waiting for you to redeem the past. The hand of the holy law is laid upon every soul who enjoys God's benefits. Let those who have kept back their tithe make an accurate reckoning, and bring to the Lord that of which they have robbed His work. Make restitution, and bring the Lord peace offerings. "Let him take hold of My strength, that he may make peace with Me; and he shall make peace with Me." If you acknowledge that you have done wrong in misappropriating His goods, and freely and fully repent, He will forgive your transgression.
Darkness Brought Into the Churches
Some fail to educate the people to do their whole duty. They preach that part of our faith which will not create opposition and displease their hearers; but they do not declare the whole truth. The people enjoy their preaching; but there is a lack of spirituality, because the claims of God are not met. His people do not give Him in tithes and offerings that which is His own. This robbery of God, which is practiced by both rich and poor, brings darkness into the churches; and the minister who labors with them, and who does not show them the plainly revealed will of God, is brought under condemnation with the people, because he neglects his duty.
Selfish Withholding Recorded
God reads the covetous thought in every heart that purposes to withhold from Him. Those who are selfishly neglectful in paying their tithes, and bringing their gifts and offerings to the treasury, God sees. The Lord Jehovah understands it all. As a book of remembrance is written before Him of them that fear the Lord, and that think upon His name, so there is a record kept of all who are appropriating to themselves the gifts which God entrusted to them to use for the salvation of souls.
Great Loss to the Unfaithful Steward
The promise to those who honor God with their substance still stands upon record on the sacred page. If the Lord's people had faithfully obeyed His directions, the promise would have been fulfilled to them. But when men disregard the claims of God, plainly set before them, the Lord permits them to follow their own way, and reap the fruit of their doings. Whoever appropriates to his own use the portion that God has reserved, is proving himself an unfaithful steward. He will lose not only that which he has withheld from God, but also that which was committed to him as his own.
CS 86-88