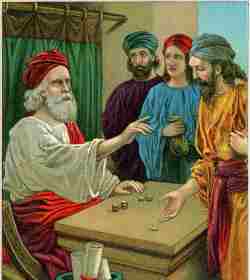 Talent
The Tithe
The Lord has specified: The tenth of all your possessions is Mine; your gifts and offerings are to be brought into the treasury, to be used to advance My cause, to send the living preacher to open the Scriptures to those who sit in darkness.
Then will any one run the risk of withholding from God His own, doing as did the unfaithful servant who hid His Lord's money in the earth? Shall we, as did this man, seek to justify our unfaithfulness by complaining of God, saying, "Lord, I knew Thee that Thou art an hard man, reaping where Thou hast not sown, and gathering where Thou hast not strawed: and I was afraid, and went and hid Thy talent in the earth: lo, there Thou hast that is Thine?" Shall we not rather present our gratitude offerings to God?
Individual Responsibility
Our heavenly Father requires no more nor less than He has given us ability to do. He lays upon His servants no burdens that they are not able to bear. "He knoweth our frame; He remembereth that we are dust." All that He claims from us we through divine grace can render.
"Unto whomsoever much is given, of him shall be much required." We shall individually be held responsible for doing one jot less than we have ability to do. The Lord measures with exactness every possibility for service. The unused capabilities are as much brought into account as are those that are improved. For all that we might become through the right use of our talents God holds us responsible. We shall be judged according to what we ought to have done, but did not accomplish because we did not use our powers to glorify God. Even if we do not lose our souls, we shall realize in eternity the result of our unused talents. For all the knowledge and ability that we might have gained and did not, there will be an eternal loss.
But when we give ourselves wholly to God, and in our work follow His directions. He makes Himself responsible for its accomplishment. He would not have us conjecture as to the success of our honest endeavors. Not once should we even think of failure. We are to co-operate with One who knows no failure.
We should not talk of our own weakness and inability. This is a manifest distrust of God, a denial of His word. When we murmur because of our burdens, or refuse the responsibilities He calls upon us to bear, we are virtually saying that He is a hard master, that He requires what He has not given us power to do.
MYP 308, 309